At the Daytona Beach show in 2009, the Club started a new program for its youth collectors. Member Sheila Rhea Rapavi introduced the FATC Minnow Club for kids to age 12. Sheila contrasts her own joyous childhood memories of lazy summer afternoons in the Florida sunshine with the electronic video world of today's young people. She explains "...Fishing with my grandfather wasn't just about fishing -- it was all about learning patience, building confidence, hearing life lesson stories, mentorship, bonding, love and so much more......the FATC Minnow Club for kids is the perfect platform for us to mentor great kids, in a safe place, as they build life-long friendships in a club of their peers".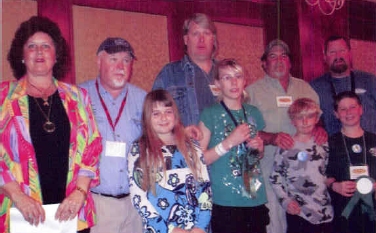 FATC Minnows recognized at the 2009
Daytona International Awards Presentation
You can sponsor a minnow by sending your name along with the Minnow's name, address, and email address to Larry Lucas at Larry_Lucas@fatc.net. The first sponsorship is free, with each additional sponsorship only $10 each thereafter. Minnows receive a Membership Certificate, President's Message, and attend all FATC exhibits for free!